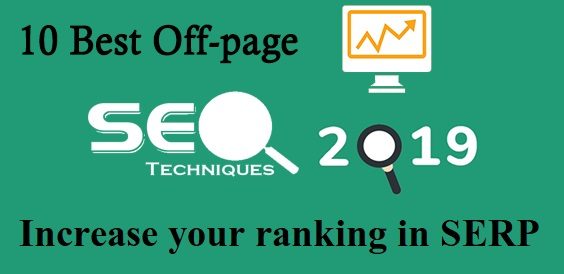 Off-page SEO techniques are the most important factor. You can be used to improve the rank of a website on the search engine. Do you think that On-page SEO and Off-page SEO are both different? On-page SEO mainly works with what is on the website While Off-page SEO is just one type of offline marketing of your website. Most people think that off-page SEO with building links, but it's not just that. One more important thing that you can increase Page rank is a number between 0 and 10 that indicates the very importance of a website. In this article, we explain 10 off-page SEO techniques 2019 that will really help to boost your organic traffic and your website must get rank on search engines like google, yahoo or bing.
1. Guest Posting
The definition of Guest posting is writing and publishing an article on someone else's website or blog. If you want to build a natural link to your website or blog then Guest Posting is the most powerful Off-Page SEO technique in 2019.  Guest posting is a nice opportunity to get a good reputation for your blog and website. You should always try to find websites related to your niche and industry. Guest Posting brings visitors to your website and converts them to clients' easiest way. You should always try to write a minimum of 1500 uniques words for the guest post.
2. Social bookmarking 
Social Bookmarking is a safe and effective one of the best platforms to promote your website. It is the oldest and effective tool for the Off-Page SEO technique in 2019. You get high traffic to your web site when you bookmark a web page or blog on popular social bookmarking websites. Social Bookmarking is an easy way to get do follow the link which Google approved it for rank your website. If you apply the right method for Social Bookmarking which has a positive impact on Index Rate and authority of the domain. The main thing to keep in mind is that do not bookmark more than a day, it also has a negative impact.
3.Blog Comments
Blog comments are a powerful way for Off-Page SEO technique in 2019. You can share your knowledge, experience and build a custom relationship thought comments. New bloggers mostly comment on high-traffic blogs to get the backlink. But did you know that blog comments too much can also spam your website? When Google update penguin it is very harmful to your website if you create more spam comments. Always trying to comment on whatever you comment on, you get do follow backlinks. Do follow backlinks will benefit in ranking. For this, you must check DA, PA of the website which you want to comments.
4.Forum Posting
Forum Posting is a very strong way where you can get the do-follow link for your website and increase your website ranking. In 2019, it is a very popular Off-Page SEO technique. A forum is like a group created on any topic where interested people can ask their questions on that topic and share your experience with each other. So first of all, you should find such as a related topic forum because interested people of your topic will be asking a question there. You can go there and answer those questions and leave a link to your website and create quality do-follow backlink for your website. It is the best way to increase traffic and ranking. Nowadays every blogger adopting this method and get the best result in SERP
5.Directory submissions
In 2019, Directory submissions are the oldest but very effective Off-Page SEO technique. You can get high-quality backlinks if you select directories having high domain value. When you do directory submissions, be careful because plenty of blog directories are available on the web. So you will be chosen right directories if you want good results. In the beginning, it is very difficult for any new blog to get more viewers. In this way, we can submit our blog post to different blog directory sites. This backlink helps in getting more traffic and ranking. Along with this, the new audience also connects to our blog.
6.Press Releases
Press Release submission is an Off-Page SEO technique 2019 used to boost the inbound traffic in a website. Press Release is a powerful quality backlink for the website and can be published on news websites like Google news so Search Engine gives high priority to the press release. It is one type of communicative tool that users know about your company and website. It is a long-lasting SEO method so you have been benefiting from it for many years.
7. Visual submission
Visual submission is a very important method for the Off-Page SEO technique 2019. These are divided into three parts.
1.Photo sharing: If you want to get the best quality do-follow link for your website, so this is the best method for SEO off-page activities. You can share on your website's unique photo on the photo-sharing site. When you share photos on these sites, you also add your blog or website's URL link. Along with this, you can also use title tags, photo details, alt text. This will happen when someone downloads or shares your photo, your blog's URL link will also be visible.because of this, there will be more chances of clicking on this link, which will help both the site's ranking and advertising.
2.Video Submissions: The video submission is same to same as the image submissions. If you share videos of your blog on any video sharing site then, you can get high-quality backlinks and more visitors for your blog.
3. Infographics submission: Infographics submission is being quite popular from the last two to three years. These Off-page SEO techniques contain valuable information with a chart because of this it attracts a large audience. If you can create uniques infographics and submit it in various infographics submission directories then you will drive more traffic towards your website and get high-quality backlinks.
8.PBN link
PBN means Private Blog Network. A private blog network is used to create backlinks. It is the most popular Off-Page SEO technique in 2019. In this method all your blogs are private and when those blogs give backlinks to any blog/website, Google thinks it is getting backlinks from other great sites. So whenever you get a backlink from a blog or website, it becomes Link Juice Pass. That means the Authority of that blog also increases. That helps to rank your website.
9.Article Submission
Article Submission is very important for getting high-quality backlinks. It is the best link building Off-Page SEO technique method in 2019. When writing an article for your blog, submit it to the popular article submissions site. This is also a great way to promote your article and blog. Before collecting all these sites, your content must be custom and unique. If your article is not correct then they can not be accepted. Using Article Submission Sites, you can create Do Follow Backlinks for your website, and this backlink is very effective so that your website ranks quickly.
10. Question -Answer.
If you want to get high PR backlink for your website, then Question- Answer is the other best Off-Page SEO technique 2019. Joint Question answer websites like Quora, yahoo answers, etc which have high domain authorities and get effective backlinks from their websites. Our blog is promoted and advertised as well on these sites. As we answer questions, we also provide links to your site. So people follow that link and come to our website, which gives us great traffic.
Off- Page SEO is very important for any website because with the help of Off Page SEO you can promote your website as much as possible and create maximum backlinks. Which means Traffic Increase on your website and you get the maximum benefit from your website. If you do not understand a subject in this tutorial, you can comment below. There is more information about Off-Page SEO techniques, so you can share your thoughts in Comments.