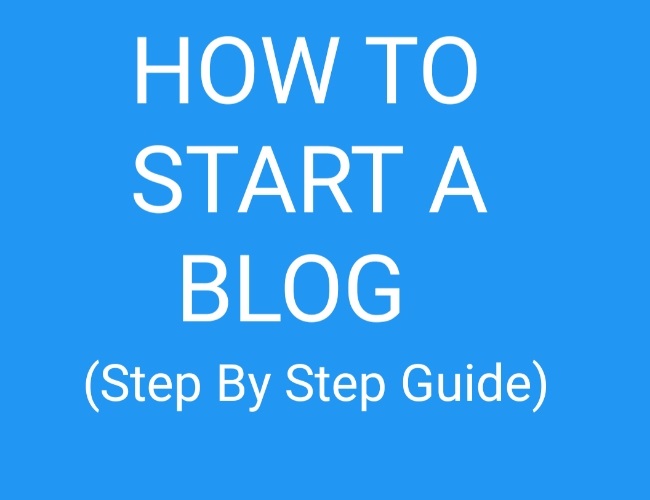 Today, the Internet is hardened by the whole world. Many people want to earn money through the internet. You know that there are many ways to Make Money Online through the Internet. But Out of this, Blogging is the cheapest and reliable to make income online. It is easy to start and you can earn millions of dollars from a successful blog. You can also earn a good income by doing part-time jobs through blogging. There is a lot of information available about How to Start Blog or How to Create Blog on the Internet. But through this article, we will provide you the easiest step for How to Start Blog on WordPress or Blogger.
Before you start blogging, you might know some important things first. So let's know all this in details
What is Blog
A blog is one platform where you can share your knowledge and information about that thing to your users. Although there are many platforms available to start blogging on the Internet like Blogger, WordPress, tumbler. But most people are using Blogger and WordPress more.
Blogger is the best blogging platform from Google which is completely free. You don't have to spend a single penny to create a blog on Blogger. WordPress is the most popular blogging platform. But for this, you have to empty your pocket a little bit.WordPress has a lot more features (like themes, plugins) than Blogger, which makes it easy for a new blogger. If you to start blogging, neither you need any coding nor any developer.
Things to need for Blogging
If you have made up your mind to do blogging, then you will definitely need these things:
1.Niche
2. Domain Name
3.Hosting
4.Theme
5.Plugins
6. Content
You will learn all these things in detail with step by step.
Niche:
Before you start blogging, you have to choose your Niche means to subject. Like food, travel, health, beauty, etc. If you make a blog about the subject that is in your interest, then you will get success soon. Nowadays, Multi- niche is also becoming quite popular. But if you have target only one niche, then you can become successful in blogging soon.
Domain Name:
After doing the Niche selection you will choose a domain name. Domain names are the hallmark of your blog. So always choose this type of domain name that people can easily remember. Let me tell you that if your niche comes under the domain name, then it can make your blog more successful. For examples. As our blog is related to technology, we have named it Besttechmaster. Domain names should always be selected at the top level like .com, .in,.org
If you are select Blogger for blogging, you will see one extension with your domain. like besttechmaster.blogspot.com. The blogger domain is totally free. But if you choose WordPress for blogging you have to purchase a domain from different sites like GoDaddy, Namecheap, Bigrock, etc. For this, you will pay some amount.
Hosting:
Web Hosting Means host Your Site on the Internet. Your blog is seen by users on the Internet due to Webhosting. If you build your blog on Blogger then you will get free hosting from Google. But if you are creating a blog with WordPress, then you have to spend some money for hosting. Hostgator and Bluehost Company are quite popular for WordPress. Apart from this, there is another company that provides hosting. 
Read Also: Top 10 Best Hosting Providers in the World 2020
Theme :
Now you have ready to set a blog. For this first, you must need the theme. A good SEO friendly theme gives good results on search engines. There are two types of themes on both platforms Blogger and WordPress. One free and other paid. If you have a small budget then you can go for a paid theme. Our website gets a great look due to the theme.
Read Also: Top 5 best and most popular premium WordPress themes of 2020
Plugin:
Plugins have their own importance in blogs. If you are creating a blog using Blogger Key then you need coding for the plugin. If you are connected to WordPress, then WordPress gives you the plugin facilities for free. By doing that you can modify your blog easily. 
Read Also: Top 10 Best WordPress Plugins of 2019
Content :
After setting this, your blog is ready to give information that you want to give to your user. For this, you will need some blog posts. You can write your blog according to your niche. But one thing to keep in mind is that to get your post ranked on Google, so you have to write your post with SEO optimization. Keep in mind that you should not copy the article from anywhere. Whatever you write, write in your words, write according to your knowledge. Do not copy articles from any other blog from anywhere. Whenever you write content, make sure that the topic on which your content is written is fully covered, and should not be less than 700 words. And when you have 30 to 40 content on your blog, then you are ready to monetize
Monetize
Now you have to monetize your blog to make money online from it, because if you do not monetize it, then you cannot make money from it. You can monetize the blog in three ways.  Adsense,  Affiliate,  Direct Sell Your Ad Space
Almost all blogger's first choice is to monetize their blog with Adsense. Because it is a very reliable advertiser in the online platform, and if you do not violate its rules, then it definitely gives money.
When you monetize your blog in this way, the company of which you will be affiliated in it, when you promote and sell the product of that company through your blog, then you get some percentage commission on every sale. That is called Affiliate Marketing
Read Also: Top 5 Affiliate Marketing Websites for 2020
If your blog has become very popular, then you can directly contact the advertiser in it and sell the ad space of your blog directly to them, and earn money from it. But for this, your blog must have a lot of traffic.
We hope that your question about how to start a blog? You must have found the answer to, this article will also be very helpful in starting your own blog.
Thank You.